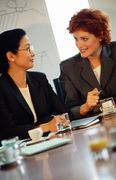 Introduction
One of the most important functions in handling accounting systems is the month-end process, which the Advantos Enterprise Accounts Receivable module shares with all other Advantos Enterprise modules. This process updates customer balances and totals, cleans up paid invoices, and flags all transactions as having been printed on a monthly statement.
One key point to understand, and to train your Operators to be observant about, is the processing month which shows in the middle of data entry screens. During month-end processing, operators SHOULD NOT enter transactions until the system indicates it has been updated into the next processing month unless they are processing month-end transactions. If this convention is not observed, you will be adding data to your totals as you are trying to balance and balancing problems can occur. To minimize this problem, the Accounts Receivable System sets a flag so no further transactions can be processed until the system indicates it has been rolled into the next processing month. A System Adminstrator security level can over-ride the flag. In addition, we recommend the user for each module also be responsible for month-end processing. This restricts the number of persons accessing the module during critical periods, and will provide important feedback to the user as to the effects of decisions made during the processing month.
One other caution before running end of month...be sure a backup has been done after all transactions for the month have been posted!!! If you find any problems or if balancing routines are interrupted, you will be able to restore data without re-entering the last few days of work. Trust us on this!! Use the A/R checklist for the month-end processing (see form at end of chapter). We will review all steps, explaining what is to be accomplished and what to do if information does not balance. In looking at the actual checklist, you will note there are numbers at the left hand margin before each instruction. These refer to the menu selections for the reports you are instructed to print or the processes you need to perform. The numbers assume you have already selected Accounts Receivable from the main menu and refer only to further selections from within the A/R System. It is important to note a great deal of balancing is required during this process. Balancing is critical to the proper operation of the accounting system. It is important to know when the system is having problems and the balancing processes will detect any problems before an update is run and errors work their way into financial statements. In many cases, an imbalance can be caused by hardware malfunctions such as power failure or inconsistent power to the computer, which has many causes, including turning off the computer before main memory has been flushed to disk, static electricity, a high temperature environment where the computer operates, moving the equipment, etc. All of these causes can be alleviated, but it is important to know when such conditions have affected your data base.
The following steps are indicated on the End-Of-Month checklist:
All Payments Verified and Entered
Payments are posted throughout the entire month. This step simply reminds you to post any payments, NSFS, or other transactions, not already posted (and deposited). Don't forget to process a deposit if one is needed.
Set End-of-Month Processing Flag
Use menu# 1.7.1 to set the End-Of-Month processing flag. This restricts the ability to post additional transactions to update and system administrator security levels. Error messages are displayed, though, for all who attempt to create additional transactions.
Add up ALL Deposit Receipts on Hand for Month
The Operator responsible for the A/R update must remember the end-of-month not only updates transactions, but also ensures cash balances are the same in A/R, the Bank System and at the actual bank. The Operator must verify all payments received in the current processing month are deposited, posted to the A/R System, and a record of the deposit (a bank deposit receipt) verifies this. It is very important to know you have deposited all funds received and posted. Therefore, as deposit receipts, NSF notices, and other bank adjustments are received from the bank, they must be posted and the documents must be held until month-end processing so they may be totaled and used as part of the cash receipts balancing procedure.
Print A/R BANK TOTALS Report
This report adds all bank account transactions originated from the A/R system. Since you can post a bank transaction directly, and flag it as having originated from the A/R system, keep in mind this can cause an imbalance. If it does, and you know why, it is ok to make a note of the reason for an imbalance and continue.
Print A/R Postings CASH TOTALS Report
This report adds up G/L postings to cash originating from the A/R system. Unlike the bank system, there cannot be any activity on this report nor originating from within A/R. Therefore, an imbalance here is rare.
Print A/R Cash Receipts TOTALS
This report adds up A/R cash receipts posted during the current processing month. It is rare an imbalance will occur here. If one occurs, it is probable a hardware problem created it.
Verify above (4) Totals & Balance
The above four totals need to be balanced: the bank deposit receipts, the amounts posted to the Bank Account System (bank totals), the cash receipts posted to the Cash Receipts file (Cash Receipts Totals), and the cash amounts to be updated to the G/L System at update time (Cash Totals). If these four totals don't equal, you will need to research the difference and correct it. For example, a common cause of a discrepancy is an item included in a bank deposit (or a bank adjustment, such as an NSF) not posted to A/R. This would indicate deposit items (receipts, NSF items, etc.) were not properly balanced to amounts reflected by the system and additional training could be done (e.g. an operator may have processed a deposit before verifying data against the pre-deposit report). If the last three items are out of balance, is is possible some hardware problem occured during the month. In this case detail reports will need to be printed for the bank account (deposits), G/L Postings detail for cash, and Cash Receipts reports. These detail reports provide information needed to track down the imbalance. Note: the three reports should be attached to the checklist when completed. All notations of errors and the corrections needed should be written on these reports. If new reports are run they also should be included with the checklist.
Print DELINQUENT LISTING Report
This report shows all unpaid invoices by customer# with dates, descriptions, and total balance due. It is an excellent delinquency report when no agings are required. This is a "file copy" report.
Verify & Clean Up Customer Accounts
Using the report above, you will have an opportunity to review the unpaid invoices reported on the Balance Sheet reports for the month. It is here you have an opportunity to ensure payments have been posted to the correct invoices and transactions from other sources have been applied correctly (such as applying ADVPMT, UNAPPL, or credit memo balances to outstanding invoices). This task can provide an excellent opportunity to review your Operator's understanding of the Payment Posting function.
Print DELINQUENT LISTING Report
Once the changes needed from the above review are complete, print a new copy of the report. This report is usually one of the reports given to management or clients in the package of month end reports. If you still see unapplied ADVPMTs, UNAPPLs, credit memos, repeat the above step and reprint this report. It is important to get a clean report, since the proper application of a payment can drop a customer from delinquent status.
Print DELINQUENT AGING
This is the delinquency report aging all unpaid invoices by customer#. This report is generally used for collections.
Print NAME/INFO LISTING (Monthly Totals)
This report is a Customer totals report and displays month-to-date and year-to-date charges and credits along with total customer balance; it is a summary of the Customer's monthly activity.
Above (2) Reports MUST Equal (less Unapplied)
The Delinquency reports add up all unpaid invoices while the Name/Info listings add up Customer balances due. These two balances due MUST EQUAL. This step establishes both files are 'in sync' with each other since the A/R system expects invoice totals to match Customer balances. Once again, the usual cause of an imbalance is a hardware problem, or an error in a prior correction.
Print CASH RECEIPTS Journal
The Cash Receipts Journal outputs all cash receipts posted to your customers' accounts. There are several display options. The usual choice is to sort output by deposit date. This report is a detailed summary for each bank deposit in the banking system.
Print MONTHLY SALES Report
The Monthly Sales Report outputs all income posted through the A/R System. It also reflects any discounts given to Customers. This amount will be updated to the General Ledger. As such, this report is a detailed summary for income as reported on your financial statements.
Print CURRENT INVOICE Report
This report lists all invoices posted in the current processing month. It also serves management in monitoring data input performance. Too many reversed transactions indicate additional training would be beneficial. Also, these invoices are the ones appearing on customer month-end statements. These reports are usually distributed to management and clients in month-end report packages. Once printed, they should be reviewed for any unusual balances or information. The reports can still be rerun at this point. If you make corrections and rerun reports after the statements are printed, you and your customers will have different information, which can cause a great deal of confusion.
Print MONTHLY CUSTOMER Statements
The statements should be printed after processing all transactions for the month and printing all management reports. They contain all charges and credits, payments, and adjustments to customer accounts SINCE THE LAST END-OF-MONTH UPDATE!!! It is important to understand this otherwise you may not be including transactions from the last statement but only from the last update. Statements may be reprinted, if they didn't print right at first, since no updating of the data base occurs during this print job. This usually occurs when paper jams, or formatting is incorrect.
Process End-of-Month Update
The A/R Update is the most important function and must be performed at month-end once all data has been posted and management reports printed. The system will run this process automatically with only a few prompts, allowing you to record select information. Many housekeeping tasks are performed here. Customer month-to-date data is cleared, paid invoices are deleted, cash receipts are deleted, current postings are flagged as having appeared on a monthly statement, and finally, the current processing month is set forward one month. Also the year-end update will automatically occur when updating December of any year. This year-end update will perform a data backup on media and year-to-date purging of customer account totals. You will not be allowed to maintain the A/R System more than one month in advance of the General Ledger System. Also, you will not be allowed to do a General Ledger update when an A/R update has not been performed.
Create Monthly Augomatic Charge/Credits
After the end-of-month process is finished, the first entries for the new month should be the recurring charges/credits booked to customer accounts. By running this process now, these items will be the first entries on the account every month, and you will ensure they will not be forgotten.