Hometastic™ Community Web Sites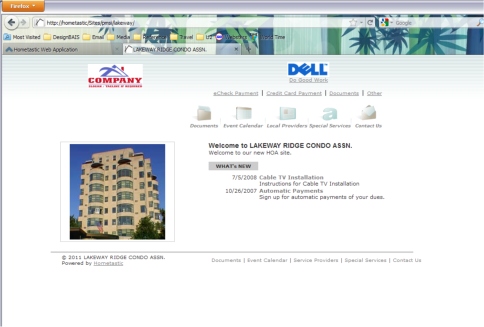 Hometastic™ web portal software puts HOA community web sites at your fingertips to make managing your HOA communities easier. Online dues collection and maintenance requests for homeowners simplify your customer relationship burden. When residents can enjoy access to specialized community services, including real-time resident payment histories, through Hometastic™ and Board members can enjoy access to real-time HOA financial reporting, your customer relationship burden is also significantly reduced.
Online Dues Payment: The convenience of resident online dues payments work for both residents and managers. Managers can improve the cash flow of their associations and reduce delinquencies by making credit card and electronic check payments available to residents. Residents love the convenience of paying this way. And the best part is, the payments are automatically processed through the Advantos ERP BackOffice™ accounting software.
Online Payment Processing: Credit Cards: Online dues payments allow you to begin collecting homeowner payments online in as little as 14 days, with all major credit cards. An example of a company we partner with is DuesPayment, a Yapstone company. DuesPayment allows property managers and owners the flexibility of credit cards by allowing Members to pay with Visa, MasterCard, or Discover. The property owner has the choice to absorb the credit cards fees or pass the fee to the Member. In addition to credit cards, DuesPayment also offers one-time and recurring E-Checks (ACH).
DuesPayment members can make payments the following ways:
Online Payments – Members can access DuesPayment through your corporate website or the individual Property's website.
Pay-by-Phone – Members may call DuesPayment's toll-free number, 1-866-289-5977, to speak with DuesPayment Customer Service, or use theirx automated IVR system, 7-days a week.
RentByText - Members can sign up to receive text message reminders and submit payments via text.
iPhone App - Members can download DuesPayment's free iPhone app to submit payments with their iPhone, iPad and iTouch.
DuesPayment Integrates with Advantos ERP BackOffice™ property management software in the following ways:
Members will be able to view their total outstanding balance when submitting payments online.
Management company can choose to enforce full balance payments only, no partial payments.
Members flagged in Advantos as 'Do Not Accept Payment' will automatically be blocked from submitting any form or payment.
At the end of each business day DuesPayment will automatically generate a payment lockbox file to upload to Advantos.
Receivable batches will be generated automatically and payments will post to the Member ledgers, eliminating the need for manual data entry.
Electronic Checks: This payment option works with the Federal Reserve's ACH (Automated Clearing House) Check Processing System. Residents simply use bank routing and account numbers from personal checks to transfer money from their bank accounts into your HOA bank account.
Property Management Software Integration: Online Payment Processing lets you eliminate the time and expense of recording each individual payment received. Our Advantos ERP BackOffice™ software provides instant and seamless integration of payments with our accounting module.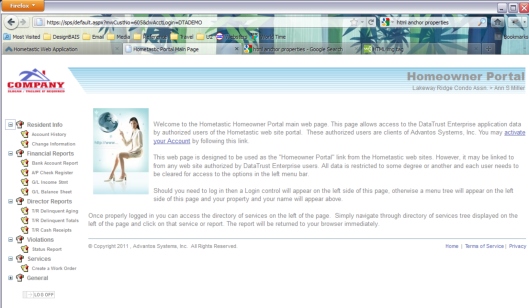 Online Maintenance: Hometastic provides work order request features that automate the work order process. It creates an efficient way for residents to notify management of maintenance requirements, and provides management with the tools to review, track and prioritize maintenance requests. Further, all completed work orders are maintained in the Advantos ERP BackOffice™ property management software, making it easy for management to review previous work orders by unit, vendor or any number of other selection criteria. This process reduces phone calls and walk-ins, making the by administration of work orders much easier.
All work order requests are automatically updated and cleared as vendor invoices are processed through the Advantos Enterprise BackOffice™ accounts payable module.
Web Portal Access: Our exclusive Hometastic™ Web Portal application gives residents the convenience of accessing their account information and Boards of Directors easy access to financial information for their Community, all in real-time as transactions are processed.
Residents can review their payment history, change their mailing address, phone numbers and email addresses. Board members can access financial statements for any month/year and review bank account information in real-time.